Nature Camp 2022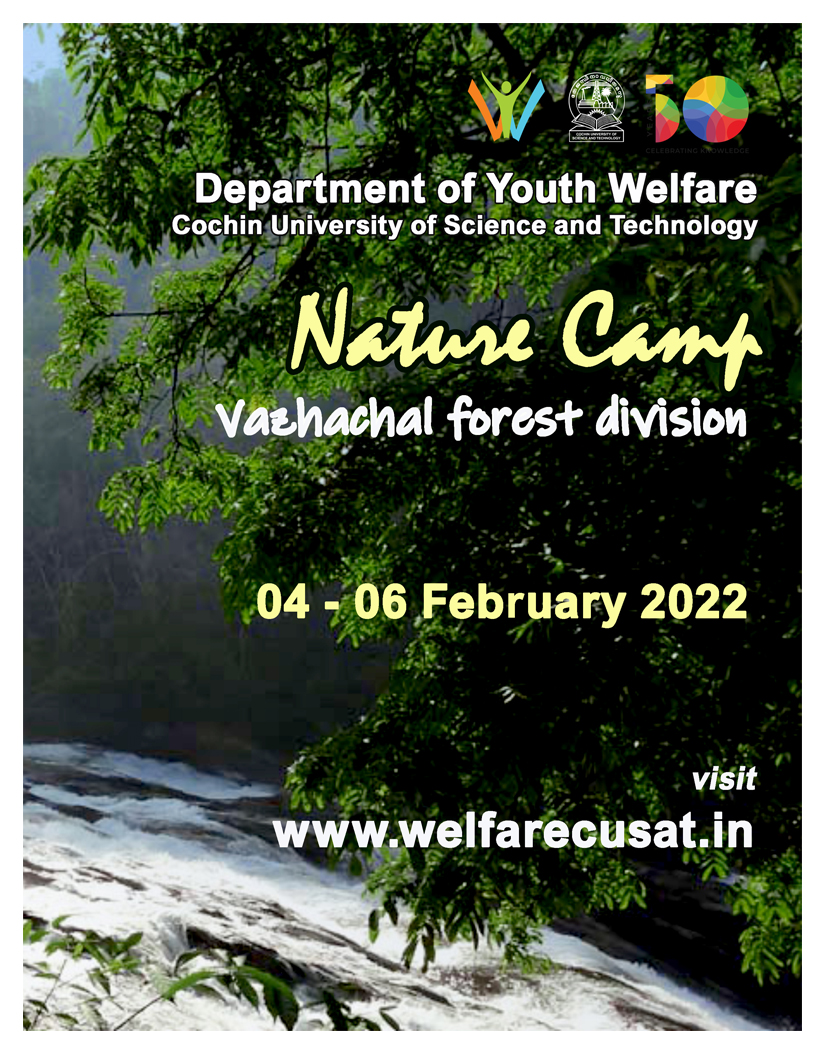 Vazhachal Forest Division
event description
Department of Youth Welfare in association with Department of Forests and Wildlife, Government
of Kerala is organising a 'Nature Camp' for selected students of the University from 04-06 February,
2022 at Vazhachal Forest Division. Students of the University Departments, Constituent Colleges
and Recognised Institutions of Cochin University of Science and Technology can participate.
The primary goal of the camp is to provide the students with an opportunity to immerse
themselves into nature and get a better sense of understanding and appreciation about the
resources and deep beauty of nature. The camp will provide the fundamentals for self-
improvement, as well as teach sportsmanship, leadership, and teamwork.
General Rules:
Campers and staff should limit their exposures (i.e., reduce the chances of becoming infected by
limiting contact with individuals outside of their immediate household) to the greatest extent
possible prior to arrival to camp.
 Campers should free of symptoms for at least 48 hours. All are requested to upload double
vaccinated certificate along with the application.
 Forest trekking is not a picnic; it is a journey for experience and learn. Follow the camp
discipline and routines to make your trip an unforgettable one in the lap of nature.
 Attend the camp in an 'open mind'. Campers should adjust with the food and accommodation
facilities available in the camp site.
 Registration fee is  ₹300/- (Rupees Three Hundred Only) including travel, food and dormitory
accommodation. Few seats are reserved for the staff of the University.
Separate accommodation will be provided for boys and girls.
Carry only the essential items so that you can minimize the weight of the rucksack. Participants
are requested to carry blanket, umbrella, raincoat, hat etc., if necessary.
Participants should be physically fit, as trekking consumes a lot of energy and stamina.
 Smoking and drinking of alcohol is strictly prohibited. Misbehaviour from the side of the participants will be treated seriously and will be reported to the Forest Department and the University for necessary action.
 Please bring eco-friendly clothes in subtle or camouflage colours. Avoid using clothes with bright and fluorescent colours.
Don't bring valuable items like gold or precious jewellery, expensive mobile phones, cameras, MP3 players, etc. as these objects may get lost or ruined. Hearing music from electronic devices, playing electronic / mobile games should be avoided. Keep maximum silence always as it may
create disturbance to the birds and animals.
 Each camper has to talk about their experiences in the camp.
 RESPECT other campers, staff members, their belongings and the natural environment.
 Payment can be done through Google pay number 8075958228 or through bank account.
SB Account number : 57014672602
State Bank of India, CUSAT Branch
IFSC : SBIN0070235.
Submit application through the link below after paying the registration fee on or before 03.00 PM, 25th Jan. 2022.