Actor Training Workshop 2019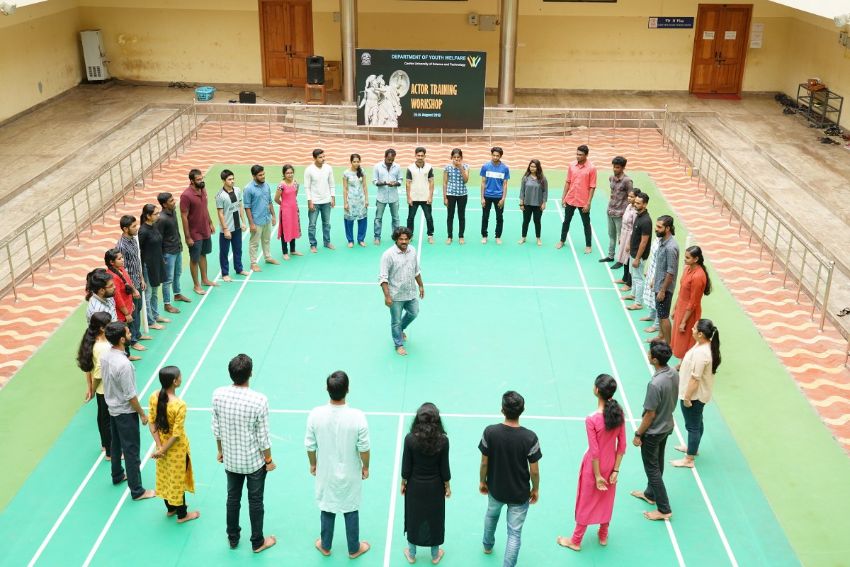 August 23 – 25, 2019
10:00 am to 5:00 pm
Second floor , Students Amenity Center , Cochin Unveristy of Science and Technology.
0484 2577354, 0484 2577355
event description
A three-day workshop on Actor training was organised by the Department of Youth  Welfare, Cochin University of Science and Technology during 23 – 25, August 2019 with  a mission to awake and nourish the unique talent that lies in every student. The major  objectives of the programmes were:
• To train and develop the acting skills and to cultivate the creative talent of each actor-student.
• To instill the necessary strength, stamina, flexibility, and energy in each student-actor's body.
• To give the actor-student the experience of working within an ensemble for three days.
Thirty-seven selected students from various departments participated. Mr. Arunlal and Mr. Prakash were the resource persons of the workshop.  Theatre, as medium can be used as an effective teaching-learning tool and it engage participant at physical, emotional, mental and social levels, simultaneously. The Workshop covered different aspects of acting ranging from movement, voice, props, improvisation and stage knowledge. Students were given creative freedom to improvise and come up with their own stories. Every student participated in the given tasks with great zeal. The workshop offered new insights and understanding to students.
Each student gave their personalised feedback as a worthwhile and an outstanding workshop. They said that it is hard to imagine that someone could have techniques to stimulate something as ethereal as creativity. In short, the camp was a wonderful, creative experience for the participants. The workshop was highly beneficial for the participants. One of the participants commented that, 'through guided improvisation, stimulus work and movement, we unleashed our creativity and learned about life and how to face different situations in life.'
2019-8-23 10:00 am
2019-8-25 5:00 pm
Europe/London
Actor Training Workshop 2019
A three day workshop
Second floor , Students Amenity Center , Cochin Unveristy of Science and Technology.
save event to calendar