PANEL DISCUSSION (NATIONAL WEBINAR)
FUTURE OF FARMING
organised by
INTERNAL QUALITY ASSURANCE CELL
&
DEPARTMENT OF YOUTH WELFARE
COCHIN UNIVERSITY OF SCIENCE AND TECHNOLOGY
About Webinar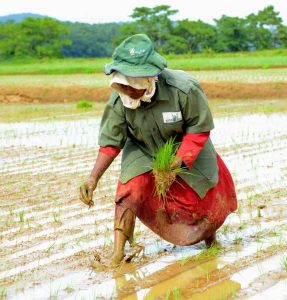 The UN World Food Programme has estimated that COVID-19 will increase the number of people facing acute food insecurity around the world – up to 265 million in 2020, up by 130 million. Food security and livelihoods of millions of people have been compromised, and many more millions are likely to be hungry because of the severe hit of the pandemic lowering levels of economic activity.
"The Future of Farming Technology", report of The World Government Summit in 2018 addresses the four main developments placing pressure on agriculture to meeting the demands of the future: Demographics, scarcity of natural resources, climate change, and food waste. The report states that, by 2050, we will need to produce 70 percent more food. Number of questions need to be answered so that we could ensure that our granaries remain filled and our plates are served without fail.
• How could we respond to this call for action?
• What are the other challenges faced by the farming community?
• What is in store with the Governments for taking this forward? "Will One Nation ….One Market" help in Doubling of Farmers Income by 2022?
• How could you address the issue of out migration from farming, fragmentation of landholdings and shrinking acreage of cultivation?
• Is there a suitable alternative……which is also sustainable?
We discuss the 'Future of Farming" in light of the impending issues in ensuring food security for the nation. Academics, policy makers and practitioners are here to suggest pathways for action, also debating on current issues.
About Green Army
Green Army is an Agro Machinery Service Centre (AMSC) which is a registered body under Charitable Societies Act primarily organized to provide one stop mechanised solution to labour problems faced in farming. This was promoted under the aegis of Wadakkanchery Block Panchayath (LSG). Green Army presently consists of 280 members of which 170 are females resulting in a drastic women involvement of women in multifarious activities including training, providing agricultural services, agricultural production etc. While other AMSC's (almost 25 of them) started in Kerala run with few numbers of operators, subsequently fail to address the issue of peak season agricultural labour requirement.
Green Army in Wadakkanchery has mobilised agricultural labourers into teams who can act as change agents in organizing agricultural operations on large scale along with ensuring employment for trained labourers. The concept of Green Army promotes taking up agriculture based avocations providing impetus as in case of any white collar job providing regular employment, salary and facilities. This has provided the participating women with boundless confidence and commitment towards reviving agricultural situation in the area. This being a replicable model, has been rolled out in nine districts in Kerala recognized by the MKSP[Mahila Kisan Sashaktikaran Pariyojana] a sub component of the National Livelihood Rural Mission(NRLM) of Government of India. Green Army of Wadakkanchery is training labour groups from different parts of the country under the programme.
WELCOME
Dr. P.K Baby

Director
Department of Students Welfare, CUSAT
INAUGURAL ADDRESS
Dr. K.N. Madhusoodhanan

Honourable Vice Chancellor
Cochin University of Science and Technology
Prof. (Dr.) C.P. Chandrashekhar

Professor
Jawaharlal Nehru University, New Delhi
Dr. P. Selvaraj

General Manager
NABARD, Thiruvananthapuram
Sri Anoop Kishor

President
Green Army (Labour Bank), Athani, Thrissur
Prof. (Dr.) S. Harikumar

Dean, Social Sciences
Cochin University of Science and Technology
MODERATOR
Dr. Sangeetha K Prathap

Assistant Professor
School of Management Studies, CUSAT
VOTE OF THANKS
Dr. Devi Soumyaja

Assistant Professor
School of Management Studies, CUSAT
PATRON
Dr. K.N. Madhusoodhanan

Honourable Vice Chancellor
Cochin University of Science and Technology
CHAIRMAN
Prof. (Dr.) K Girish Kumar

Director
Internal Quality Assurance Committee (IQAC), CUSAT
Dr. P.K Baby

Director, Youth Welfare
Cochin University of Science and Technology
Dr. Sangeetha K Prathap

Assistant Professor
School of Management Studies, CUSAT
Dr. Devi Soumyaja

Assistant Professor
School of Management Studies, CUSAT